'Inc.' Magazine Names DSI One of America's Fastest Growing Companies in 2014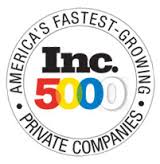 HUNTSVILLE, Alabama (August 28, 2014) – Davis Strategic Innovations, Inc. (DSI) – a Service-Disabled, Veteran-Owned Small Business headquartered in Huntsville, Alabama – has been named one of Inc. magazine's 5,000 Fastest Growing Private Companies for 2014.
DSI was ranked #3,886 in the 33rd annual listing, with $5.3 million in revenue, representing a 79 percent sales growth.
Companies are ranked based on average revenue growth from the past three fiscal years, with 2010 as a base year. The 2014 list of companies represents a median growth rate of 516 percent, aggregate revenue of $211 billion, and creation of more than 505,000 jobs within the past three years.
In 2011, DSI placed #301 nationally on the Inc. 5,000 list and was one of three Huntsville companies on the Inc. 500 list.
"In this austere economy, DSI continues to grow. We believe this growth has come from our customers recognizing our commitment to integrity and superior quality service," said Dr. Jim Davis, President of DSI. "We value our customers and verbally promote them at every opportunity so they are seen as leaders in their fields."
Read DSI's full Inc. 500/5,000 profile here: https://inc.com/profile/davis-strategic-innovations.
DSI is a Service-Disabled, Veteran-Owned Small Business dedicated to quality engineering, analysis, research, education, information technology, and exercises focused on technical, policy, and procedural issues to enhance national security. To find out more, please visit www.davisdsi.com or call (256) 489-0550.