Davis Strategic Innovations (DSI) Engineer Dustin Loomis Awarded a Silver Snoopy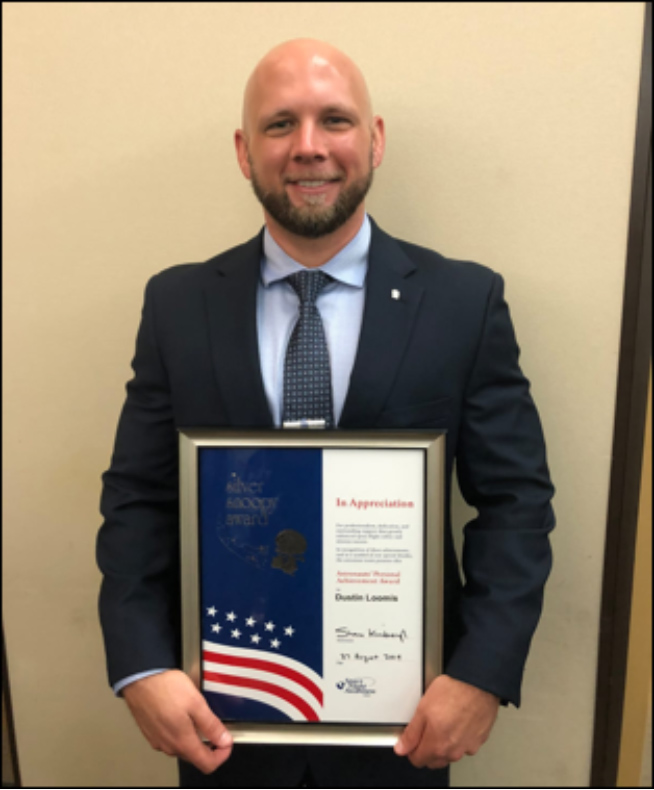 KENNEDY SPACE CENTER, Florida (August 2019) – Dustin Loomis, a Safety and Mission Assurance (SMA) Element Integration Engineer for Kennedy Space Center (KSC), was awarded a Silver Snoopy Award. This is an award for NASA employees who have shown significant contributions to the human space flight program. An astronaut always presents the Silver Snoopy because this is the astronauts' own award for outstanding performance contributing to safety and mission success.
Mr. Loomis serves as the SMA Element Integration Engineer for the Spacecraft Off-Line Processing Element (SOPE) and the Orion Vehicle, ensuring the safe performance of Verification and Validation and testing activities at the Multi-Payload Processing Facility and Launch Abort System Facility (LASF). Recently he was instrumental in developing new area access training for Orion and Interim Cryogenic Stage Propulsion System (ICPS) processing operations in the Multi-Payload Processing Facility (QF130KSC) and Launch Abort System Facility (QF150KSC) at KSC. His efforts increased the level of safety for all personnel performing work in EGS flight hardware processing facilities.
Mr. Loomis exhibits DSI's guiding principles of integrity and providing superior quality work to our customers. He is always willing to assist his fellow coworkers and regularly contributes beyond his normal work requirements. During the critical Orion Crew Capsule Underway Recovery Test #7 (URT), Mr. Loomis volunteered on less than a 48-hour notice to replace the primary SMA Engineer who was called away due to a family emergency. He traveled to the Navy ship underway off the coast of San Diego to support this critical mission ensuring uninterrupted required safety support and success of URT-7 at sea operations.
DSI congratulates Mr. Loomis for receiving the Silver Snoopy Award. Fewer than one percent of the aerospace program workforce receive it annually, making it a special honor to receive this award.